Blockchain Terminal Revolutionizes Crypto Trading
The first and - to our knowledge - ONLY all-in-one solution for the serious crypto trader.

By Jon Rice Last updated May 31, 2018
Crypto trading seems to be easy, in some ways. You hop on an exchange, set your price, buy or sell, and repeat until you have something you want to keep in a hardware wallet.
But what we see, isn't necessarily what is.
We see an exchange. We see a price. We see a demand, and a supply. We hope to be on the right end of that seesaw. But what we cannot do, is understand the entire cryptocurrency market – the 100 or more exchanges, the tens of thousands of buy and sell orders beyond our immediate grasp. Even if we could load them individually, even if we had gone through the painstaking process of KYC for every one of those exchanges… we could never switch between them quickly enough to use the information we had worked so hard for.
What we see, is not necessarily what is.
From Compliance To Cryptocurrency
Blockchain Terminal (BCT) has been under development for three years – initially, through its ComplianceGuard product, which provides a means of providing traditional Hedge Funds and smaller investment companies with information related to audit trails, business rule logic, and exception alerts (as a blatant example, imagine that a fund is precluded from investing in a certain country, and then ignores the embargo – an exception alert would catch this kind of activity).
CEO Bob Bonomo, a veteran Wall Street insider with experience as the CIO at OppenheimerFunds and AllianceBernstein, describes the original product as a "good housekeeping seal" for smaller funds to gain access to asset ow. "When I joined the company, I saw that our foundational capability was in transparency, accountability, compliance… and I saw the relevance for the crypto world, where we have nothing, no auditors, no regulators."
Over a period of several minutes, Bonomo outlines almost every problem facing the institutional acceptance of cryptocurrency as an asset class – metrics, exchange volume issues, reliability, custody solutions, education – and he quotes Mike Novogratz's famous "The herd is coming…" to illustrate that these issues need to be resolved, and quickly.
The upshot of this, is that Blockchain Terminal was designed from the ground-up with compliant institutional investors in mind. But there's a surprise in store for home crypto enthusiasts, too (read all the way to the bottom…)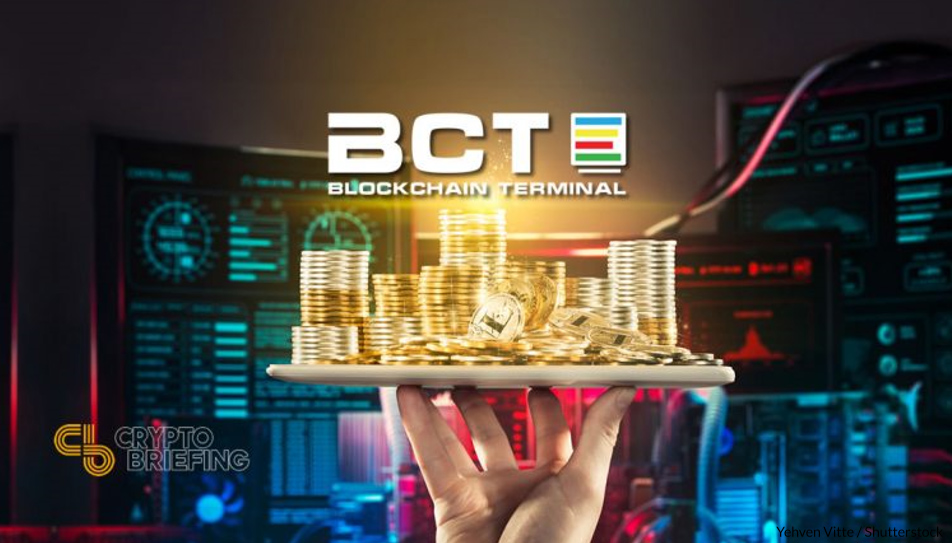 Everything About Crypto Trading Changes Now
Back in Miami, where I rst encountered the product, I saw some interesting features. In New York, a look at the progress since January brought the concept home, and made me realize that crypto trading is about to change completely.
The Blockchain Terminal itself looks cool. I don't know how else to say this. It's cool. A pair of ultrawide monitors stacked vertically, covered with information – mostly familiar, but never presented in one single interface before –  and all of which is very… cool. The hardware is almost as engaging as the software.
The user experience is vital when it comes to driving a sports car, or playing a video game – why not create something just as dynamic and immersive for crypto trading? Sitting down at this device makes me want to crack my knuckles, loosen my ngers. It feels like getting down to business.
The Blockchain Terminal fullls several functions:
Exchange Integration
The project aims to include dozens of exchanges with a consolidated order book. When ordinary crypto traders, most of us, make a trade on an exchange we are seeing one fragment of the crypto universe. But Blockchain Terminal brings almost the entire ecosystem into one place. So instead of being presented with THIS order, on THIS exchange, your order book shows ALL orders across ALL supported exchanges – and allows you to buy, or sell, at the best available rate.
And that's not all. You want to buy 20 ETH of Quantstamp today? You'll have to go through a pretty signicant range on any individual exchange to buy at market rate. But the consolidated order you place through Blockchain Terminal will actually spread your buy across all supported exchanges, buying 20 ETH at the lowest possible rate even if it buys a fraction on Binance, a fraction on Huobi, a fraction on a dozen other exchanges… and delivering the resulting QSP to a consolidated wallet. Seamlessly obtaining a price that you couldn't humanly obtain on your own.
As for your wallet, it acts as any other wallet – you load it, you transfer the tokens, you buy and sell, you save your favorites to your hardware device. One wallet, with access to the entire cryptoverse.
And all of this gives rise to an obvious question: how do you register on all of these exchanges?
And the answer is – you don't. The KYC and registration is handled by BCT as an entity: you complete KYC with them once, and then you have access to their entire portfolio of exchanges.
Yes, read this whole section again. Does the headline make sense now?
Blockchain Terminal App Store
The whole system is designed around the app concept – when I sat down with the team for a second demonstration, the store had come to life. In the top right, a 'tag cloud' style app illustrating the relative increase or decrease in value of a set of cryptocurrencies, as well as their relative volume. Clever, engaging, effective.
Other apps track ICO cash ow, calendars, self-curated news ows, sentiment analytics… in fact, as Bonomo continued, the company sees their success as "all about partnerships" . Developers will be encouraged to create nancial apps, either for use in-house by the institution, or for sale to all users via the token ecosystem. "We anticipate revenue share of 80% to the developer," says Bonomo.
The entire interface is customizable, giving crypto traders access to almost everything they could conceivably want or need to execute their business without leaving the environment.
It is stunning. The UI is simply stunning. And although the team test-drove it for me, I could see that with a little practice, the UX would be equally remarkable.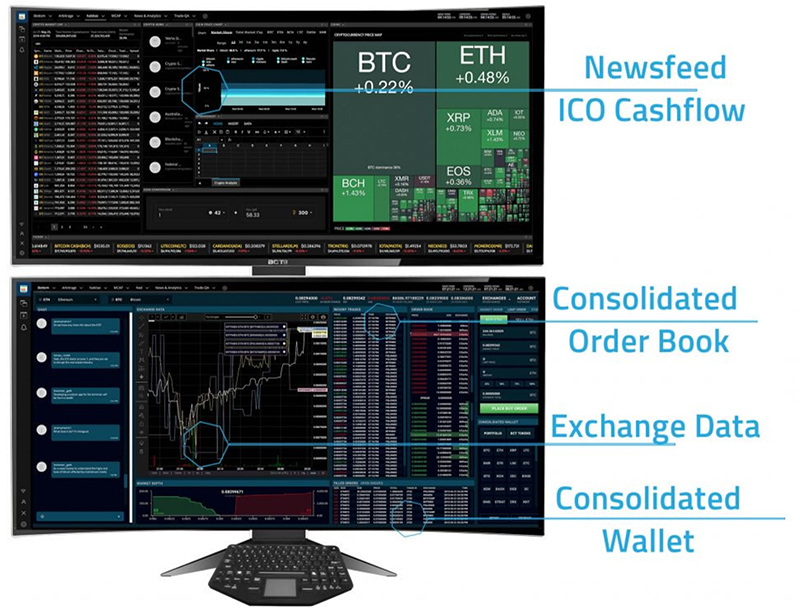 Private Ethereum Fork For Compliance
The original ComplianceGuard product is also part of the suite; it captures the trading data to ensure that professional funds remain within their remit: "It's there to identify attempts to deviate from the constraints and mandate that's sold to the client," says Bonomo. For funds looking to ensure compliance, the system is essentially designed to prevent the terrifying 'rogue trader' scenario which could expose them to nancial risk and legal jeopardy – while also allowing investors to sleep easy, knowing their money is being put to use as promised by the fund.
The way compliance audits are done today, says Bonomo, "is like a reman entering a burned-out building" . It's all done as a post-mortem. But this system, with its live alerts, could help prevent the kind of events that bring entire industries to their knees: "We can prevent the kind of Madoff situations that show up every ten years, and paint a very negative picture of the industry."
And that's one of the key factors behind adding genuine compliance to this product – it actively encourages the institutional investor to test the cryptocurrency waters. Bonomo explains that "No crypto hedge funds that I know of have a constriction management capability, like you can only trade these eight pairs – and when you deviate from that, it's captured, and someone's going to ask why you did it."
The Future Of Crypto Trading
Technology is supposed to be an enabler.
Sometimes it fails. Bad design, unanticipated consequences, poor management.
What I see here is the real deal. It will not only allow for better decision-making, more protable trading, more accurate execution – but it will also encourage further adoption from the investment people who have been skeptical of crypto trading, with good reason. More institutional money in crypto is not a bad thing, it's simply that with their algorithms and trading platforms and articial intelligence, it often means the ordinary Joes are competing in a game they can't win.
But I promised a surprise for home cryptotrading enthusiasts, too – and here it is.
Blockchain Terminal is provided as a full hardware suite, as I mentioned…
They're also releasing a fully-functioned web app.
So it's not just for those who are already bored of their own Lambo – the rest of us will get to use the Blockchain Terminal crypto trading suite too. You may have to switch screens a little more, but I was told that all the functionality of the hardware setup will be available to (I assume) subscribers.
At the time of writing, there are no details on availability or price – but there is a signup form…
Disclaimer : The author is invested in ETH, which is mentioned in this article. Neither the author nor Crypto Briefing has asked for, or received, any consideration of any kind for this independent assessment.

Jon Rice
I'm the Managing Editor at Crypto Briefing. I like to build things. Especially communities. This community - despite all the arguments, the rivalries, the diverse viewpoints - is still part of something that much of the world has not yet discovered. By participating positively in our community we bring strength to our infrastructure, and we encourage the interest and participation of others. My job is to advocate for inclusion, for a diversity of ideas and people, and for truth. Other than this, I like to run, DJ, and hang out with my miniature Highland steer, Moose.